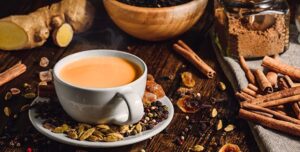 Premix Tea Manufacturers in India– It's the perfect time for tea in India whether it's a chilly winter day, a rainy day, or a bright summer evening. The dried leaves of the tea plant are used to make tea. But because of industrial innovation, there are now numerous varieties of tea accessible on the market. One of the distinctive tea varieties that are popular in the country is premix tea. Every dealer is hence interested in learning about Premix Tea Manufacturers in India.
Premix tea is a ready-made powder that combines milk solids, tea extract, sugar, and dairy whitener. Making tea with instant or premixed tea takes no longer than five minutes. Pour a little more than 100 ml of warm water into a cup, and then add one sachet of any instant premix tea of your choice to make instant tea. I'm done now! It only needs a brief stir before you can start drinking.
Because it is instant, you can save time by not having to wait for each component to be added. Additionally, having premix instant tea powder makes it possible to prepare the tea in huge numbers with the least amount of effort.
Demand for Premix Tea Manufacturing in India and the international market
Due to its simplicity in handling and preparation as well as its function in controlling blood sugar levels, this sort of tea is generally liked in offices. Instant tea premixes are quick-to-prepare beverages in powder form that are combined with milk or water to increase metabolism generally, enhance functioning, and provide sustained hydration.
The market for instant tea premix consumption, which was valued at $1.4 billion in 2019, is anticipated to grow to $2.1 billion by 2027, with a compound annual growth rate (CAGR) of 6.8% between 2021 and 2027.
Instant tea premix offers a substitute for normal tea and is frequently used to quickly create tea. Premix Tea producers in India are focusing more on creating this product as a result.
Additionally, the market is driven forward by the increasing acceptance of instant tea premixes, particularly in the corporate sector, as a result of the rising demand for ready-mixed beverages.
Moreover, consumer lifestyle changes have significantly affected eating patterns, resulting in a rise in the demand for instant tea premixes globally, which is projected to accelerate the development and number of Premix Tea Manufacturing companies in India.
How to choose Premix Tea Manufacturing Company in India
You should test all the brands for the following characteristics before selecting a Premix Tea Manufacturers in India.
Taste & Flavor Balance: The three main ingredients of a tea premix are sugar, milk solids/dairy whitener, and tea extract. In addition, individual flavorings or a combination of spices are added. Ginger-cardamom, lemongrass-ginger, and many other spice combinations are a few of the often-used combos. You can be sure that the amounts of tea extract, milk, and sugar are coordinated and harmonized to produce the optimum flavor and aroma.
Aroma: Do you detect any strong spices? If so, does it feel good and energizing? Does the taste match up well with that fresh aroma during the tasting session?
Sugar Content:  The majority of tea premixes are too sweet. More water isn't a solution because it dilutes the flavor in general. The proportion of sugar in tea is crucial since not everyone has a high tolerance for sugar. Is the tea premix balanced, overly sweet, or does it need more sugar to suit individual tastes?
Adding Ons: Adding Ons Do stirrers come with the pack? Any more tools that enhance the tea premix's convenience, especially when traveling?
Convenience: The directions listed at the back of the pack range in difficulty. Is the tea premix portable enough to be consumed when traveling or at a desk in an office without specific needs?
Product Price: Are the tea premixes reasonably priced or are they excessively expensive? Is the pricing reasonable given the tea's quality? How much does a tea premix sachet cost on average per day?
Why Choose Alexa Tea as Top Premix Tea Manufacturers in India?
Alexa Tea is a well-reputed Premix Tea Manufacturers in India. that brings you a legacy of tea Premixes. Our goal is to provide you with only genuine Indian traditional tea in premix or ready-to-mix form. You can consume Indian, Traditional, Natural, and Homemade Tea at any time and anywhere in the world. These delicious teas come in a variety of flavors and are expertly blended with herbs and spices to provide even the most discerning tea drinker with a spectacular tea experience.
Since the founding of Alexa Tea, our products have quickly ingrained themselves into many families' daily routines. They are in high demand both domestically and in many foreign nations. The fact that all of our products have FSSI approval makes us happy and proud to announce it. Furthermore, we perform Premix tea manufacturing in India following international quality requirements.
A true tea enthusiast is brand loyal and never compromises on tea's flavor. Such tea enthusiasts, who fervently adore exceptional service, are the target market for our products. No artificial food components or preservatives were utilized in their production; they are manufactured entirely from natural ingredients. What are you still holding out for? Please try our instant premix tea.
​
Contact Details
Name: Alexa Tea
Address: SCO – 75, 1st Floor, Sector – 12, Panchkula 134115
Phone Number: 1-800-1802-167
Frequently Asked Questions
Q – Who is the best premix tea manufacturers in India?
A – Alexa Tea is the Best Premix Tea manufacturer in India that brings you a legacy of tea Premix. Find detailed information on Tea Premix Suppliers for your buy requirements. 
Q – What are the benefits of premix tea? 
A –  Premix tea offers convenience, consistency, and a great taste. It is also a cost-effective way to enjoy a cup of tea, as it requires little time to prepare and does not require additional ingredients. 
Q – What are the ingredients of premix tea? 
A – Premix tea typically contains instant tea powder, sugar, and creamer. The ingredients may vary slightly depending on the brand.