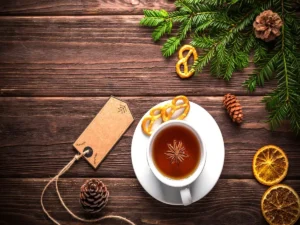 Flavored Tea Manufacturers In India – Tea that has been flavored in some way is flavored tea. Any mix of fruits, flowers, vegetables, essential oils, etc. is importantly useful to create the flavor. Think about the following instances: Adding spices to tea for creating flavors in tea or adding Citrus fruits to tea to create fruit flavor tea. Flavored Tea Manufacturers In India create a variety of premium flavored tea varieties and export them both domestically and abroad.
To make your distinctive blends, you might also combine unusual combinations of fruits, flowers, oils, herbs, etc. with teas (or a blend of teas). To make your distinctive blends, you might also combine unusual combinations of fruits, flowers, oils, herbs, etc. with teas (or a blend of teas). Similar to how adding hibiscus flavor will give it a floral flavor.
Flavored Tea Manufacturing in India: A Booming Opportunity
As tea consumption has increased globally, a variety of novel tastes have entered the market. The tea business now has a chance to innovate due to rising consumer money, shifting tastes and preferences, and an insatiable need for novelty.
Customers are embracing the creation of novel flavored teas, and from 2020 to 2027, the demand for flavored tea is expecting to expand at a rate of 5.5% annually. (According to the Data Bridge Market Report) United Group of Food Consultants provides premium liquid flavors to the thriving tea sector. These tastes offer a variety of advantages, including ease of use, affordability, and prompt flavor and scent delivery.

Government Regulations about Flavored Tea Manufacturing in India
The food safety and standards authority of India (FSSAI) is taking action in response to the rise in Tea brand diversity to ensure that only high-quality Tea is available for Consumers. The following FSSI laws and guidelines are essential for any aspiring tea business owner to be aware of.:
According to the FSSAI, "Tea" products should solely come from the leaves, buds, and fragile stems of the Camellia sinensis plant using legal methods. It could come in the form of black or oolong tea.

For single-origin tea leaves, the tea brands may make an origin claim following the Tea Board. Kangra Tea, cultivated in the Himachal Pradesh valleys of Kangra and Mandi, has distinct standards.

The FSSAI has also mentioned the requirements for green tea.

The use of any coloring agent in tea is not permissible by the FSSAI.

The FSSAI has approved the use of 0.2% pectinase enzyme to improve the flavoring properties of tea.

The FSSAI Labeling Regulations, Advertisement and Claims Regulations, and Packaging Regulations must be followed while labeling tea.

Tea is permitted to employ "natural flavors" and "natural flavoring ingredients."

The tea used for the flavored teas must also meet the requirements for tea. Manufacturers of flavored tea in India are required to register with the Tea Board. The label from the manufacturer must include the Tea Board registration number.

All tea enterprises must obtain an FSSAI license to engage in any type of activity, including manufacturing, marketing, retail, exporting, etc., just like every other food business operator.

Given that it is a product of plant origin, production must make sure it is free of impurities, foreign objects, and pest infestation.
Alexa Tea | Best Flavored Tea Manufacturers In India
Alexa Tea is a popular, in-demand Flavored Tea Manufacturers in India that delivers you the best quality tea products abiding with FSSI regulations. We take the utmost care when it comes to storage and packing and purchase the first choice of each season. We collaborate directly with tea plantations that are skillful and professional in hand-selecting tea leaves according to their purity, quality, purity, color, and profile.

To be eligible to join our supply chain, each of these plantations must be morally upstanding, environmentally responsible, certified, and sustainable. We ensure that our tea manufacturing is following global quality standards. Customers favor this kind of tea because of its full-bodied flavor, exquisite aroma, strong, refreshing flavor, and unmatched taste.
You may discover tea with complex flavors at Alexa Tea. Masala Tea, Punjabi Masala Tea, Eliachi Tea, Royal Tea, Himalaya Garden Tea, and Gold Tea are some of our most popular flavor-rich tea products. The mixture of herbs and spices in Alexa tea will give your ordinary tea leaves an additional aroma. Using Alexa tea will enhance the freshness and flavor of every cup, regardless of the brand of tea you're drinking.
Contact Details
Name: Alexa Tea
Address: SCO – 75, 1st Floor, Sector – 12, Panchkula
Phone Number: 1-800-1802-167
​
Frequently Asked Questions about Flavored tea manufacturers in India
Q1: is Alexa Tea blended and packaged by a third party?
Contrary to the majority of businesses, we blend and package our tea in India in a facility that is organically certified. This guarantees total vertical integration and the integrity of our supply chain's products. We source our teas from our farms and mix them in a facility that is USDA Organic certified. Package them using the equipment we own in the same facility.
Q2: How should you secure/store loose-leaf teas?
The flavor of loose-leaf teas fades away from them by the fresh air, namely by the oxygen. You should keep loose-leaf tea in a dry and out of direct sunlight and moisture in airtight containers. Teas shouldn't have any space in the freezer or refrigerator. The cooler temperatures are ineffective because the delicate leaves will absorb strong odors from other items in the refrigerator and there is moisture present.