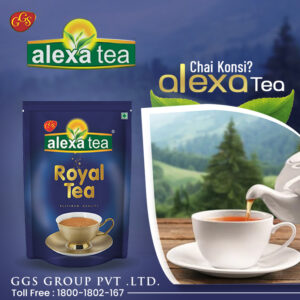 Black Tea Manufacturing Company In India – In the western half of the world, black tea is more widely consumed. However, black tea is currently popular in India as well. Black tea is the ideal early-morning beverage due to its fresh aroma and energizing flavor. Assam, Darjeeling, and vanilla-flavored black teas are some of the most popular varieties among tea drinkers. Thus, a large selection of black tea items is available from Alexa Tea, a black tea manufacturing company in India.
Black tea has a variety of health advantages. Regularly consuming 1-2 cups of black tea helps to maintain energy levels and boost attentiveness. Numerous studies have demonstrated that black tea is effective in decreasing atherosclerosis (clogged arteries). Additionally, regular use reduces the risk of kidney stones, diabetes, excessive cholesterol, and a few other illnesses. It is claimed to give the body enough moisture.
Black Tea Industry in India
During the forecast period, the Indian black tea market is anticipated to expand at a CAGR of almost 7%. India is the world's largest consumer of tea and the second-largest producer of tea, according to the Tea Board of India. Between 70 and 80 percent of the tea produced in the nation is consumed domestically. The Indian Tea Board undertook a poll to better understand the country's tea consumption trends.
According to the poll, the Northern states account for about 32% of the nation's overall tea consumption, while the Western region accounts for 31% of the total. Only 19% of the total is consumed in the North East, while only 18% is consumed in the Southern states. According to the survey, 64% of the nation's population, or nearly 88% of all households, consume tea, and this percentage represents the nation as a whole.
Origins of the Black Tea Manufacturing Company in India
Even though green tea is still the foundation of Chinese tea culture today, black tea was first produced in China. Over time, the surrounding nations on the other side of the ocean learned to appreciate the flavor of oxidized black tea as the tea culture moved beyond the localized areas.
Black tea was initially brought to Europe by the Dutch in 1610, and it reached England in 1658. When there was a tremendous demand for black tea in England's American colonies in 1700, the popularity of black tea skyrocketed. Some even assert that the practice of enhancing black tea with sugar and milk has enhanced consumers' preference for robust black tea over delicate green or white tea.
When the Camellia Sinensis Assamica tea plant type was found in 1823 in the Assam region of India, black tea production experienced its next surge in the 1800s. Bold black tea aficionados would benefit most from this variety. Soon after, British settlers began establishing tea gardens in the Darjeeling district of India. The Indian kind of black tea was exported to England at the time since India was a British territory.
Processing process in Black tea manufacturing Company in India
Black tea is processed in two methods, which are explained below:
Orthodox: Tea leaves are processed whole or partially broken in this method, which takes considerably longer than other methods. To begin oxidation, tea leaves are bruised by rolling them in a variety of ways after being picked from the garden, where moisture is reduced. Next, fire is used to stop oxidation, and finally, the tea leaves are sorted according to quality in the final stage.
Non-orthodox: In this accelerated method of making tea, tea leaves are finely chopped and immediately oxidized to create a batch of black tea that is robust and consistent. Commercial tea bags, which are more popular than loose-leaf tea, can accommodate the cut pieces with ease.
Buying Black Tea from the Most Reputed Black Tea Manufacturing Company in India
Make sure to purchase your black tea from recognized black tea Manufacturing Company in India, Alexa Tea if you want the freshest flavor possible. On the box, we clearly state how we prepare, pack the team, and how to brew it.
Black tea won't spoil if you keep it for a long period, although it could start to taste stale. The shelf life of oxidized black tea is greater than that of delicate green tea. Many black teas can keep for one to two years in an airtight container when kept in a cold, dry location. Be careful when using spices and pantry goods because they can impart taste to the tea leaves.
Alexa Tea – Top leading Black Tea Manufacturing Company in India
We at Alexa Tea recognize the enthusiastic tea consumers' desire for a hot cup of "Tea" that tastes as delicious as it smells. Knowing the depth of Indian tea history, we strive to offer exceptional tea tastes that can give tea consumers around the world quality and refreshing taste.
We refer to our manufacturing facility to majorly emphasis on quality. The quality of Organic Assam Tea, Black Tea, CTC Tea, etc. is carefully inspecting all stages of manufacture. Our thorough testing ensures that the tea is of the highest quality and that the packaging is educational and of the highest quality.
Our ability to satisfy customer demand growth contributes to us becoming their preferred tea manufacturer. We keep a lot of the bulk products that are in stock. All of the products are organized neatly into various categories for simple shipment identification.
We keep our promises, and this is evident in the steps we've taken to make payments straightforward as well as in our affiliations with reputable logistical providers. We create business plans and policies while taking into account the precise needs of our clients. This moves us one step closer to winning the hearts of our clients.
Why Choose Alexa Tea?
We are a moral company that impartially conducts business.
Both online and offline payment methods are acceptable to our business. This accommodating payment strategy helps to simplify financial transactions for clients.
To develop the product range we offer, our company unit uses premium ingredients.
With the assistance of reputable logistics firms, we consistently deliver things on time.
To assure value in the form of Tea, the product line relies on different safety and quality factors.
​
Contact Details
Name: Alexa Tea
Address: SCO – 75, 1st Floor, Sector – 12, Panchkula 134115
Phone Number: 1-800-1802-167
Frequently Asked Questions
Q – What are the different regions in India known for black tea production?
A – India is renowned for its black tea production, and several regions are known for their unique tea characteristics. Some prominent black tea-producing regions in India include Assam, Darjeeling, Nilgiris, and Dooars.
Q – How does a black tea manufacturing company source its tea leaves?
A – Black tea manufacturing companies usually have their own tea estates or source tea leaves from contracted growers. They carefully select tea gardens that adhere to quality standards and sustainable farming practices. The tea leaves are plucked by skilled workers, ensuring the right timing and quality.