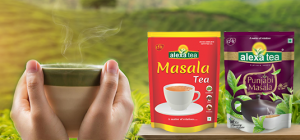 Masala Tea Manufacturers In India – The second-largest tea producer in the world is India. Due to significant geographical characteristics, Indian tea is popular to be among the best in the world. As a result, Masala tea Manufacturers in India have made significant investments in tea processing facilities, ongoing innovation, a broader range of products, and strategic market development. Additionally, about 10% of global tea exports come from India, one of the top 5 exporters of the commodity.
India exported tea for a total of approximately US$ 687.9 million in 2021. Assam and West Bengal generate the majority of the nation's yearly tea production, which will account for 83% of the total in the northern region of India in 2021–22. The Assam Valley and Cachar are Assam's two primary tea-growing regions. The three main tea-producing regions in West Bengal are the Dooars, Terai, and Darjeeling.
About 17% of India's total production is coming from the south, with Tamil Nadu, Kerala, and Karnataka being the top three producing states.
TEA CAN GIVE A BOOST TO YOUR HEALTH
In India, drinking tea is the elderly's best pastime. What are the health advantages of drinking a cup of tea every day? Continue reading to learn more:-
Hydrates body – According to some scientists, tea contains a lot of water. Even though brewed tea contains caffeine, a cup of tea can properly hydrate your body. It is thought to be more effective for hydration than simply drinking water.

Prevents tooth decay – There is a lot of fluoride in tea. Now, it is well known that this mineral helps to improve dental enamel, and drinking tea is exactly how you do that. The fact that it can prevent tooth decay is another plus.

Lower fat content – Tea is beneficial in two ways. It is the ideal beverage substitute for soft drinks, to start. So, if you typically drink diet soda or cold beverages after meals, try switching to tea. Second, it is popular that drinking tea rapidly burns calories and breaks down fat. As a result, your body eventually absorbs fewer calories from the food you eat.

Prevents cancer – Let's be clear that research on tea's beneficial benefits on cancer is still in its early stages. According to recent findings, people who drink 5–6 cups of tea each day had greater immunity to some malignancies, such as mouth and prostate cancer.

Protects bones – It's thought that tea contains phytochemicals. These substances are widely used to treat bone-related illnesses and bone aging. Tea can therefore increase bone health and bone density.
Most Popular Masala Tea Manufacturer In India | Alexa Tea
Alexa Tea is one of the top leading Masala tea manufacturing companies in India that has been maintaining its legacy through its great products. They consistently rank among the greatest tea producers in India thanks to our pursuit of quality, competence, and experience. At Alexa Tea, the quality of tea manufacturing is unparalleled. As a result, we are considering it to be one of the top brands of Masala tea manufacturing company in India.
Our brand name and, more importantly, the trust of all of our local and international customers, who are always confident in the quality developed at Alexa where the highest standards of sanitation and international food and safety protocols are followed, have made us the cleanest and best Masala tea manufacturers in India. This is due to our capability to produce superior teas even during the lean periods of manufacturing when compared to the others.
Why Alex Tea is the Best Masala Tea Manufacturing Company in India?
For the past 20 years, Alex Tea has satiated the need of tea connoisseurs for a fine cup of tea. The extensive selection of premium tea, specialty tea, and Indian tea products is reliable and delightful in terms of flavor, aroma, and appearance. We selected several types of Alexa Tea that we think people would appreciate and enjoy to create a tea product that awakens your taste buds and quality that revitalizes freshness.
As we become a regular part of your life, we promise to serve you the finest tea and the freshest ingredients. We traveled from city to city in quest of the ideal flavor and blend before starting Masala Tea Manufacturing. Consequently, there is a vast market for our products both nationally and internationally.
Now that you are aware of the advantages of tea, it is crucial to only drink freshly made tea of the highest caliber. For manufacture, the tea leaves must be clean and free of hazardous substances.
The most well-known Masala Tea Manufacturers In India, Alexa Tea, is responsible for introducing Punjabi Masala tea to the world market. The Company also provides a wide selection of tantalizing flavors for their Organic Elaichi tea mixes and infusions. Alexa Tea offers six different varieties of delicious and fragrant tea products.
Alexa Royal Tea

Alexa Elaichi Tea

Alexa Masala Tea

Alexa Punjabi Masala Tea

Alexa Gold Tea

Alexa Himalaya Garden Tea
​
Contact Details
Name: Alexa Tea
Address: SCO – 75, 1st Floor, Sector – 12, Panchkula 134115
Phone Number: 1-800-1802-167
Frequently Asked Questions
Q – How are masala tea products packaged and distributed?
A –  Masala tea products are typically packaged in various forms, such as loose-leaf tea, tea bags, or ready-to-drink formats. Packaging materials are chosen to preserve the freshness, aroma, and quality of the tea.
Q – How do masala tea manufacturers ensure the quality of their products?
A – Quality control is a vital aspect for masala tea manufacturers. They implement stringent quality assurance measures throughout the production process. These measures include sourcing high-quality ingredients, conducting regular quality checks on spices and tea leaves, maintaining hygiene standards during blending and packaging, and complying with relevant food safety regulations. 
Q  – Do masala tea manufacturers use natural ingredients?
A – Yes, reputable masala tea manufacturers in India strive to use natural ingredients in their blends. They source high-quality spices and tea leaves to ensure an authentic and flavorful experience.